Over the years after it's release in 1993, the film "Falling Down"has gained certain popularity. In this chaotic world that we find ourselves living, audiences more and more find themselves sympathizing with Michael Douglas's character, William Foster.
In the film, Foster a man who fired from his job building missiles to protect America from the Soviet Union, divorced and through a court order cannot visit his daughter. Decides he's going to ignore the rules of basic society and go visit her anyway and along the way he encounters street gangs, gun violence, and various other predicaments that seem to be standing in his way. Along that time, Robert DuVall's character Detective Martin Prendergast is slowly tracking Foster down. It's very easy to fall into the trap of rooting for Foster because he seems to represent the everyman, but there is a great flaw in this theory. He flat out IS the bad guy. He has zero regard for anybody except for his own selfish ends.
The character Prendergast is actually much more relatable, but many people may not have much sympathy for him because this is a film were the hero is in fact the Antagonist of the film, and the villain is the Protagonist. But there are many images and subtle references to both characters as the film progresses that shows that they are mirror images of one another.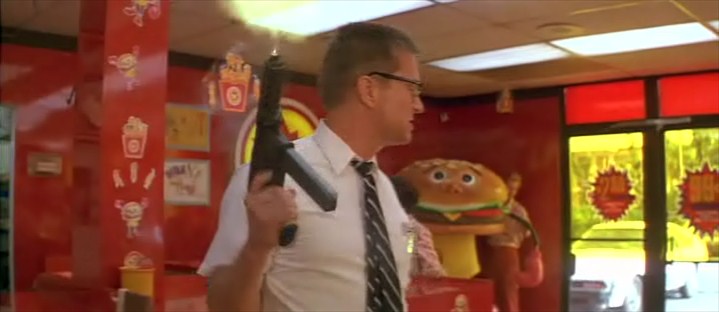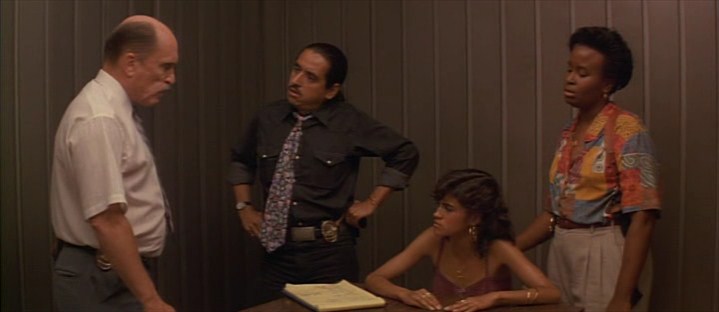 For example, in the first half of the film you'll notice the both Foster and Prendergast dress very similarly. And as the film progresses you'll see them both change gradually into what they both consider themselves to be. Foster who puts on the neo-Nazi's jumpsuit almost making himself appear like a soldier. Prendergast simply puts on a suit closely resembling what he sees himself to be, which is a detective. Fitting imagery for both of them since they see themselves as both defenders of society.
The fact that both of them have families are also very similar. Foster is alienated from his family divorced and cannot see his daughter. Prendergast also has a wife and daughter. His wife has gone insane, so he feels as though he is lost her in a way. And his daughter is long since deceased the prior to the events of the film. So both men are alienated from their families.
There also seems to be a great lack of respect from their peers and both characters in the film. In the case of Prendergast we see that his other detectives and fellow officers do not really respect him that much and they treat him like he's lower than them. Even though it's obvious from the get go that Prendergast has probably been there much longer than any of the others have been.
We don't actually see too much of Foster's peers throughout the film, we could references in the people that Foster encounters along the way to see his daughter. From the bum who begs for change, to the two old men at the golf course that he encounters, to the man and his family that are taking care of the plastic surgeon's house.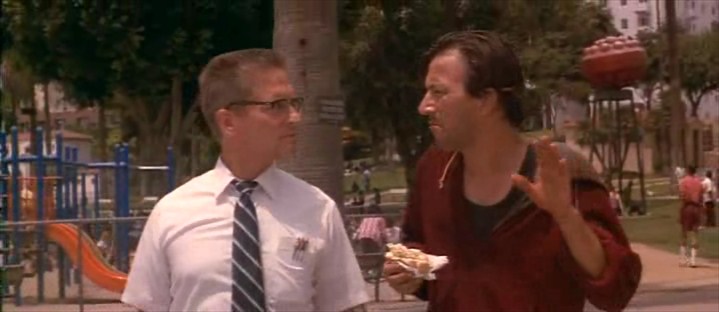 The special moment doesn't even really come to mind until the final part of the movie. Which is something that a lot of fans of this film seem to take for granted. This is literally a film, where the hero and the villain do not meet one another until the very last scene.
The structure of the film this way seems to make the mirror image seem much more poignant and much more noticeable. It also makes it clear that this is the point of transformation for both men. Our protagonist, William Foster begins we can believe, as a good man who threw a set of circumstances thrown at him, has become the villain. Prendergast in reacting to Foster's reactions to the world, has actually risen above his circumstances and actually become a hero in the process.