Monthly Archives: January 2020
Lars Thorwald, as played by Raymond Burr is undoubtedly one of the most iconic film villains of all time. Besides the great acting on the part of Burr, the direction of the great Alfred Hitchcock definitely marks his performance in the film "Rear Window" as one of the greats. But when one carefully analyzes what the film presents us as an audience, a truth becomes clear: This is a villain that we virtually know NOTHING about.
We know he's a salesman, and that he killed his wife. And that based on the witnesses Lt. Doyle mentions to Jefferies, that Thorwald possibly did it because he was seeing another woman behind his wife's back. But there are other things the viewer should consider.
Remember, that Jefferies may be the film's hero, played by the beloved James Stewart. But he is far from an honest character. He alienates himself from his girlfriend constantly, and tries to distance himself from her by keeping her "outside his world" which has shrunken to his apartment. He is a photographer, he traveled the world a lot. He views each neighbor as an extention of himself. The piano player is Jefferies enveloped in his work. Miss Lonely Hearts is Jefferies if he ends up alone. Thorwald and his wife are mirror images of Jefferies and Lisa. He sees that Thorwald is frustrated with taking care of his wife and projected their situation onto him and Lisa. This sympathy for Mrs. Thorwald stems from the seeing her like himself, sick and immobile. Jefferies is a hero who projects the restrictions of his situation on everyone around him.
Essentially, Hitchcock has tricked us into rooting for a peeping tom who got lucky and caught a bad guy. If more of Thorwald's background were presented, it's quite possible that Thorwald might appear more morally inclined than Jefferies.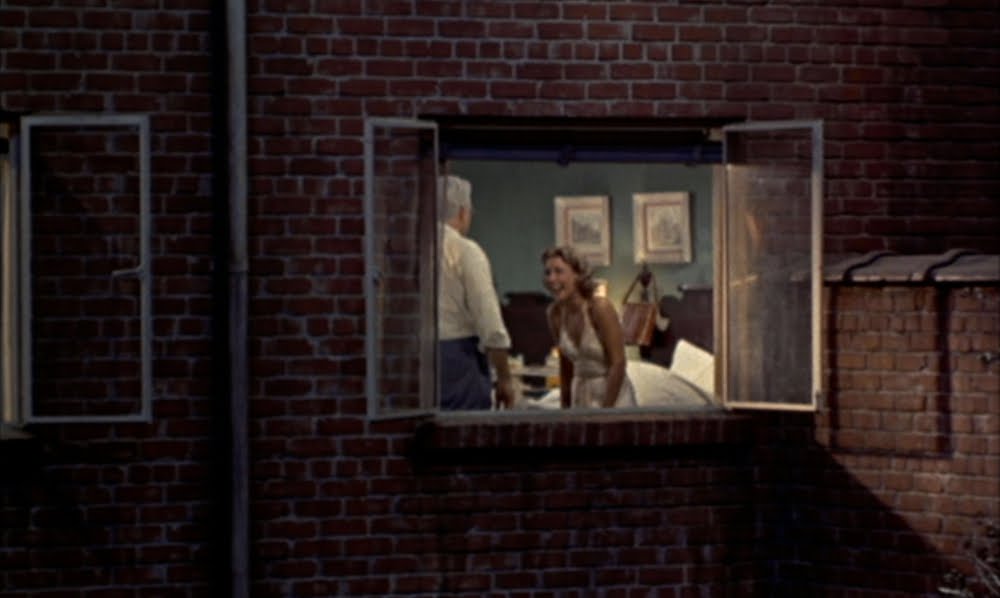 We're given no background to the state of Thorwald's marriage. Aside from the fact that his wife is an ill woman who needs care, and he obviously does. One factor of their relationship that is shown once, but not again. Is a shot of Mrs. Thorwald laughing hysterically at her husband.  He doesn't appear to be amused at all. While this is never addressed again, either by the story or the observations of Jefferies it does hint at a possible clue of Thorwald's motives. Perhaps he was being emotionally abused by the woman he tried to care for.
If Lars Thorwald really was an abuse victim who sought comfort from another woman, it might show a small bit of sympathy in his actions. Thorwald wouldn't be the devil, he would be a desperate man who killed his wife (maybe accidentally for all we know). And tried to get rid of all the evidence he could. Besides the implied gruesome method of disposing of the body, and the killing of the neighbor's dog, these seem more like the actions of someone who's terrible at discretion.
In his final confrontation with Jefferies in Jefferies' apartment, the only scene where Thorwald actually speaks, it should be noted that he doesn't threaten Jefferies first. He assumes Jefferies is trying to blackmail him, inquiring that he has no money. He only attacks Jefferies when Jefferies makes it clear that the final piece of evidence, his wife's ring, is bringing Doyle and the police after him.
That fact the no further details of Thorwald's past are ever explored is the only real reason that he is classified as a villain, and Jefferies it could be argued, is only a hero because his habit of invading the privacy of his neighbors was just the lesser of two evils.
After the accidental transformation of Andre and the fly's atoms getting mixed in the teleporter, rather than being played by a stunt man (which is logical since the role becomes nonverbal) the actor David Hedison was fitted by a specially designed mask fitted for his head. That actually is Hedison playing the transformed scientist. It was designed by makeup artist Ben Nye, who also designed the Ape makeup in the Planet of the Apes screen test with Edward G. Robinson.